As Seen on TV: The BKV PR Team's Top 10 Commercials (+2)
As you can imagine...
the water cooler conversations here @bkvadvertising are constantly filled with talk about all things related to TV, from our favorite shows to the most engaging commercials. The chatter has now taken over our agency blog, as Kwesi Robertson (@kwesirobertson) and Erin Ledford (@Erin_Ledford) compile a list of the Top 10 (+2) commercials that have made those breaks during our favorite TV shows a bit more entertaining.
Yes, I enjoy funny commercials and they do leave me remembering the brand…but there's something about a powerful commercial that makes a large imprint on me. I remember vividly watching the super bowl, and getting chills when Chrysler debuted their new commercial. Move me to Detroit and buy me a Chrysler. I'm sold. - @Erin_Ledford
Look at the "old" Old Spice commercials, now back at the "new" ones, now back at the" old" ones, now back at the "new" ones. The Old Spice brand might have made Isaiah Mustafa a mainstream star but Mustafa made these series of commercials memorable and humorous by bringing his Don Juan charm and bravado to the small screen. The commercials were definitely a departure from previous Old Spice advertisements by aggressively targeting women to get their men to smell, well…like Mustafa.  – @KwesiRobertson
There's nothing I hate more than having to wake up really early in the morning…except for the thought of having to wake up really early to go shopping. However, Target roped me in when they introduced the "Crazy Target Lady" during the Holiday season. Her commitment motivates me, and makes 4 am seem like the most perfect time in the world for some good Christmas shopping…almost. - @Erin_Ledford
My first reaction was WTF! But with these diverse characters introducing various models of the new Honda Civic, what wasn't to like? Seriously, add a ninja, a zombie, a Mexican wrestler and a Yeti and you instantly are one of my favorites. - @KwesiRobertson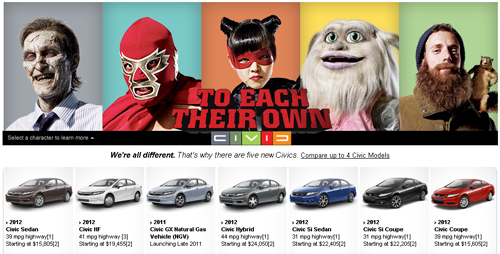 Geico has done it again! Everyone is trying to find ways to save and cut corners. After seeing this commercial, maybe those 15 minutes would be a smarter decision. - @Erin_Ledford
How can you make insurance entertaining? By giving funny scenarios when you might need a little help from your agent…like when you are mere moments away from being attacked by a bear. Sprinkle in some Bob Barker, add the dude from True Blood and you just won my attention and business. Thanks, State Farm! -@KwesiRobertson
The scare tactic never works on me…unless you throw in a shark with sharp white teeth. Nicely done, Gillette…it's clever, because what guy wants to be in the danger of Jaws? - @Erin_Ledford
Ok, I know I said that State Farm has my business, they actually do but still Allstate's "Mayhem" has my heart. Role playing a heartbroken teen driving a pink SUV, a sexy siren jogging in the neighborhood (eat your heart out Eva Longria), or my personal favorite a havoc-causing raccoon, yes…a raccoon! Advertising GOLD!!! - @KwesiRobertson
By making fun of my generation. Brilliant. Most commercials depict the older generation as boring and lame. Not so smart when you realize that they actually have most of the buying power and disposable income. I love these new commercials and give props to Toyota for thinking outside the box by targeting with precision and humor, this demographic.  -@KwesiRobertson

I know what you're thinking…how could we put together a Top 10 (+2) list of the best commercials, and not give credit to a baby that not only talks, but talks about finances! Cue Etrade… - @Erin_Ledford
Some commercials don't have to be a big production to make a big impact. This is by far the most creative commercial of the ones I've listed. Common sense delivers a cold slap when you see the cost attributed to drunk driving. Now deliver this message through social media means…AWESOME!  This definitely makes me re-think, happy hour and is probably the reason I rollerblade to the bars. -@KwesiRobertson
Did we forget your favorite?? Leave in the comments which commercial you would like to see on the list, and it might be included in our next Top 10!